V-LFP-12-100FT | 12v 100AH Fusion Lithium Battery | Slim-Line Deep Cycle
Regular price
$789.00 AUD
Regular price
$1,011.50 AUD
Sale price
$789.00 AUD
Unit price
per
Sale
Sold out
Description

Fusion Lithium battery - Australia's Leader in Lithium Technology

Fusion Lithium batteries deliver safe lithium phosphate energy storage solutions in standard lead-acid battery sizes for a wide variety of applications. They are designed as a direct drop-in replacement for similar sized lead-acid batteries offering twice the run-time and less than half the weight. Fusion Lithium Phosphate Batteries are an extremely light weight battery designed for deep-cycle (cyclic) applications and are a completely dry battery making them spill-proof and leak-proof. Fusion Lithium batteries have an extremely low self-discharge rate meaning a longer shelf life when compared to lead acid batteries and others Lithium Brand.

Fusion Lithium batteries is the pioneer of lithium deep-cycle batteries in Australia. Our industry leading advancements in lithium technology has made us the benchmark for lithium deep cycle technology world-wide. With a major focus on research and development Fusion Lithium batteries have been designed to be superior in every aspect. Our lithium batteries are the most powerful and lightest lithium batteries in the world.

Where to Use Fusion Lithium Batteries

Our 12v 100AH Fusion Lithium batteries are versatile energy solutions that can be used in a multitude of applications. Here are some of the key areas where Fusion Lithium batteries truly excel:

Living off-grid — Dreaming of a self-sufficient lifestyle off the grid? Fusion Lithium batteries are your reliable energy partners. Their impressive energy storage capacity and long-lasting performance ensure you have power when you need it, even in remote locations.

RV/camping solar energy storage system — Embarking on an outdoor adventure? Fusion Lithium batteries are your go-to for RVs and camping setups. Their lightweight design and extended run-time make them perfect for keeping your lights on and devices charged while you're out exploring the great outdoors. 

Industrial robotics — Powering industrial operations require durability and reliability. Fusion Lithium batteries step up to the challenge, offering consistent energy delivery for robotics and automation systems. The efficiency of our 12v 100AH Fusion Lithium batteries ensures seamless production processes.

Medical devices — In the medical field, having reliable power is paramount, especially during emergencies and in critical care. Fusion Lithium batteries provide a trustworthy energy source for medical devices, ensuring that critical equipment functions without interruption and safeguarding patient care.

And this is just the tip of the iceberg. Fusion Lithium batteries hold the potential to revolutionise energy solutions in countless other applications. Their lightweight, high-energy-density design, coupled with advanced safety features, makes them adaptable to various scenarios — from marine vessels to renewable energy projects and beyond.

Fusion Lithium batteries can be charged using standard 3 stage AGM smart chargers.

Available in 12V, 24V, 36V
Ultra-Light Weight - 1/3 of normal lead-acid battery
Long Shelf Life - Minimal self- discharge.
Extremely Quick Recharge Time - Can be safely recharge with high current charge rates.
Can be charged with standard 3 Stage AGM smart charges & alternators.
Built in Battery Management System (BMS)
Built in Automatic Protection from Over Charge, Over Discharge and Over Temperature
Direct Drop-in Replacement for Lead Acid Batteries - With considerably longer runtime
Safe to Use - The battery cannot explode or catch fire under normal operating conditions
Longer Service Life - Thousands of cycles at 100% DOD under normal conditions
Superior Design & Quality - Manufactured to Quality Assurance Standard ISO 9001
High Energy Efficiency - Higher voltage resulting in a boost in performance
HR Series for extreme heat conditions
Custom Options are available, enquiries within.
Fusion Lithium are the Pioneers and Benchmark for 12V & 24V LiFePo4 Batteries in Australia.
Dry Cell Battery - No leaks or spills
Run-time

Warranty:

https://superstart.com.au/resource-centre/#warranty-guide

Specification Sheet:

https://superstart.com.au/wp-content/uploads/2022/09/V-LFP-12-100FT_Specs_EML.pdf
FAQs

What is a Fusion Lithium battery, and why is it special compared to other energy storage solutions?

The Fusion Lithium battery is a cutting-edge energy storage solution that stands out for its exceptional performance and versatility. Unlike traditional energy storage options, Fusion Lithium batteries offer a unique combination of longer run-time, lighter weight and high energy density. This means you can enjoy extended power usage without the bulk and hassle of heavier alternatives.

How does a Fusion Lithium battery achieve longer run-time and lighter weight than lead-acid batteries?

Fusion Lithium batteries achieve longer run-time and lighter weight thanks to their advanced lithium technology. Lithium batteries are inherently lighter and boast a higher energy density compared to their lead-acid counterparts. This enables Fusion Lithium batteries to store more energy in a compact, lightweight package, giving you extended power with less weight to carry.

Can Fusion Lithium batteries be charged using standard AGM smart chargers?

Absolutely, Fusion Lithium batteries can be charged using standard AGM smart chargers. Their design allows compatibility with commonly used charging equipment, providing you with convenience and flexibility. This means you can charge your Fusion Lithium battery using the chargers you may already have.

Are Fusion Lithium batteries safe to use, and do they have built-in protection features?

Safety is paramount with Fusion Lithium batteries. These batteries are not only safe to use but also equipped with advanced built-in protection features. They incorporate a Battery Management System (BMS) and automatic protection mechanisms against overcharging, over-discharging and over-temperature conditions. Your safety is our priority.

What makes Fusion Lithium the pioneer and benchmark for 12V & 24V LiFePo4 Batteries in Australia?

Energy Eco's pioneering status in Australia is attributed to our continuous innovation and commitment to quality. With a strong emphasis on research and development, our Fusion Lithium batteries have become the benchmark for 12V and 24V LiFePo4 Batteries. Our batteries' exceptional design, performance and reliability have set new standards, making them the preferred choice for energy storage solutions across Australia.

Do you offer a warranty for your Fusion Lithium batteries?

Your satisfaction and peace of mind truly matter to us. Our Fusion Lithium batteries are backed by a manufacturer's warranty that addresses any defects in materials and workmanship. The duration of this warranty may differ, so we suggest referring to the product documentation or reaching out to our support team for precise information. If any concerns fall within the warranty's scope, rest assured that our team is fully prepared to guide you through the process with unwavering support.

What is the return policy for your Fusion Lithium batteries?

We understand that life can bring changes, and we want you to feel completely satisfied with your purchase. If you need to return your Fusion Lithium battery, do know that we have a return policy to make the process simple and straightforward. You have up to 7 calendar days from the receipt date to initiate a return, given the item remains unused, unopened and in its original packaging.

Kindly note a restocking fee of $45.00 will be applicable. We sincerely apologise that we cannot accept returns for items already on their way to you. Should you decide to proceed with a return, please keep in mind that the responsibility for return shipping costs falls to you, and these costs, unfortunately, cannot be refunded. Please inspect the received goods upon arrival to confirm they match your expectations.
Share
View full details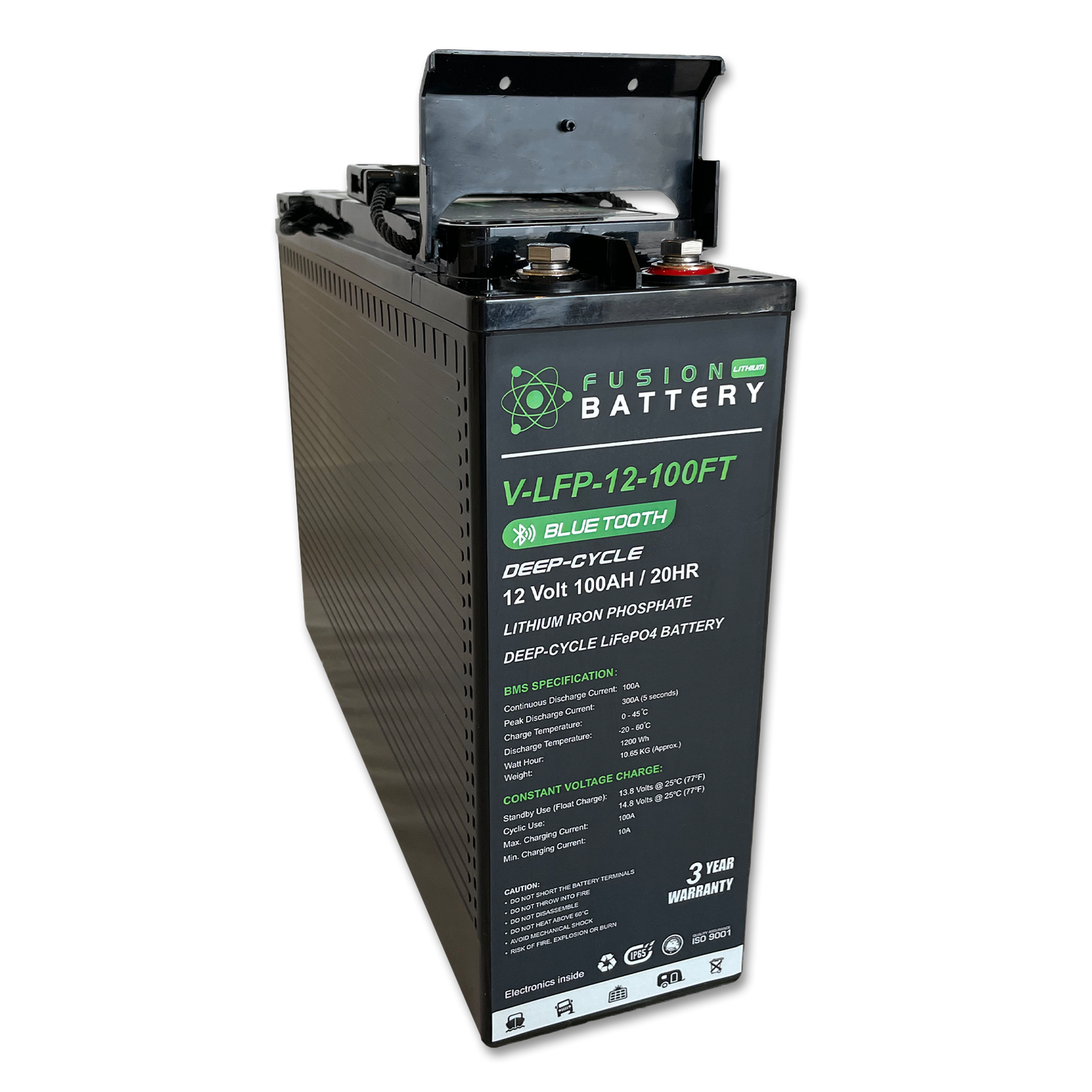 Great battery and price
Great battery, fast delivery and the Bluetooth works great.