Victron | Battery Monitor | BMV-712 Smart Grey (BAM030712000R)
Regular price
$243.49 AUD
Regular price
$388.00 AUD
Sale price
$243.49 AUD
Unit price
per
Sale
Sold out
Description

Bluetooth Inside 

With bluetooth built-in, the BMV Smart is ready for the internet of things era. With bluetooth being implemented in most other Victron Energy products, wireless communication between products will simplify system installation and enhance performance. 

 

Download the Victron Bluetooth app

Use a smartphone or other bluetooth enabled device to;

- customise settings;

- monitor all important data on single screen;

- view historical data; and 

- update the software when new features become available

 

Easy to install 

All electrical connections are to the quick connect PCB on the current shunt. The shunt connects to the monitor with a standard RJ12 telephone cable. Included: RJ 12  cable (10m) and battery cable with fuse (2 m) no other components needed. 

 

Also included is a separate front bezel for a square or round display appearance, a securing ring for rear mounting and screws for front mounting. 

 

Midpoint voltage monitoring 

One bad cell or one bad battery can destroy a large, expensive battery bank. When batteries are connected series, a timely warning can be generated by measuring the midpoint voltage. Please see the BMV manual, section 5.2, for further information. 

 

Very low current draw from the battery

Current consumption: 0.7Ah per month (1mA) @12V and 0.6Ah per month (0.8mA) @24V. Especially Li-ion batteries have virtually no capacity left when discharged until low voltage shutdown. After shutdown due to low cell voltage, the capacity reserve of a Li-ion battery is approximately 1Ah per 100Ah battery capacity. The battery will be damaged if the remaining capacity reserve is drawn from the battery. A residual current of 10mA for example may damage a 200Ah battery if the system is left in the discharge state during more than 8 days. 

 

Bi-stable alarm relay 

Prevents increased current draw in case of alarm. 

 

Other features 

- Battery voltage, current, power, ampere-hours consumed and state of charge 

- Remaining time at the current rate of discharge 

- Programmable visual and audible alarm

- Programmable relay, to turn off non critical loads or to run a generator when needed 

- 500 Amp quick connect shunt and connection kit 

- Shunt selection capability up to 10,000 Amps 

- VE.Direct communication port 

- Stores a wide range of historical events, which can be used to evaluate usage patterns and battery health 

- Wide input voltage range: 6.5 - 70V

- High current measurement resolution: 10 mA (0.01 A) 

Additional input to measure voltage (of a second battery), temperature or midpoint voltage, and corresponding alarm and relay settings 

Specifications:
Share
View full details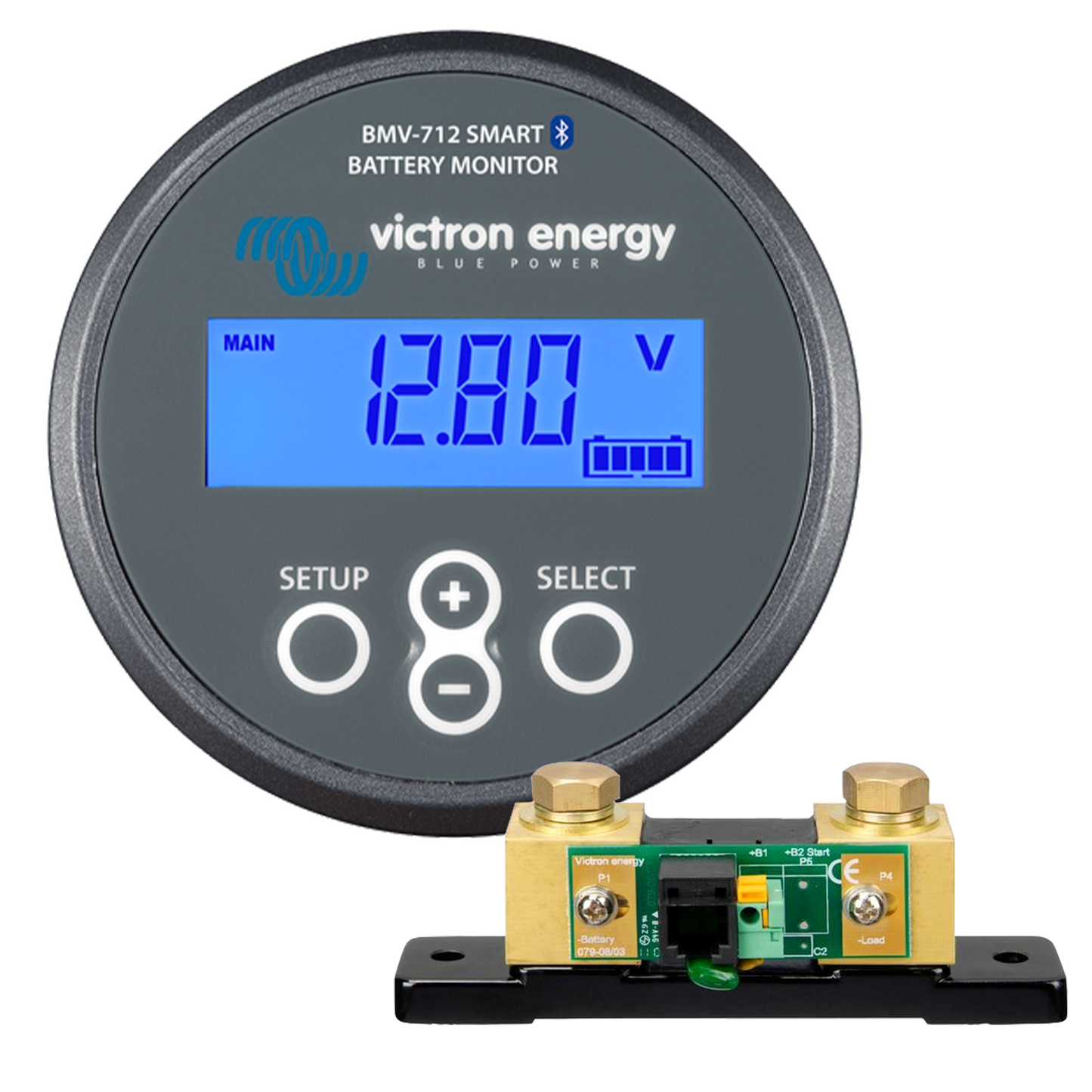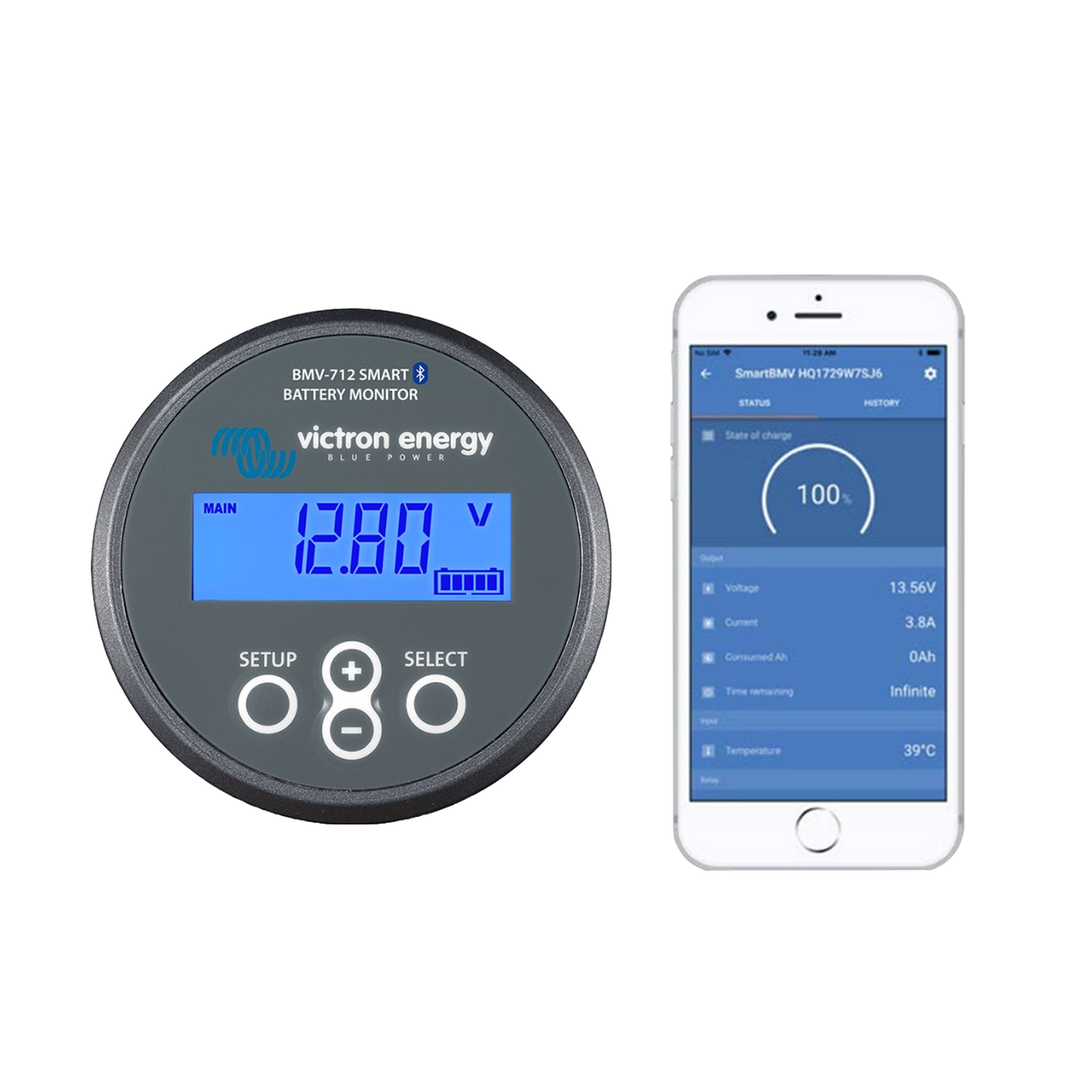 Essential bit of kit.
Energy eco is your one stop shop for all your Victron gear. full range, best prices, good customer relations
Very Good Service
Ordered a number of Victron items from Energy Eco, and they confirmed with me everything by phone within a couple of days of the order. They were professional and efficient and all the gear arrived safely and well-packed. I have used Victron gear for years, and while it may be a couple of months before I install all this gear, based on the service so far, I am confident I will have no problems. Will use Energy Eco again whenever I need more gear.
Quick
Was extremely quick in getting my product. Thanks.